I am water
Thrifting sustainable fashion and more
You've landed in a little place on the web where you can find my past and present projects and works. I hope you will enjoy looking around and feel inspired to discover the world of ethical fashion and sustainable style, daydream of new places to explore while you take a peek at the photographs or perhaps find some food for thought in my writings and poems. I'll see you inside!
SUSTAINABILITY THRIFTING CIRCULAR FASHION
A sustainable style means dressing in clothes produced in conditions that didn't cause harm to the environment, society and the people who made them. There are different ways to dress in an eco-friendly and ethical manner however for me the best option available is using what we already have (and that we have in great amounts). This is why I promote the use of second-hand clothes, thrifting, and the curation of a personal wardrobe that lets us express who we really are through a creative and sustainable style.
Create your style
Second-hand clothes, sustainable fashion, personal style. Visit my shop and choose your unique outfit!
The world is full of magic, secrets and beauty ready to be discovered. With the help of an old camera and a bit of light I've tried to do just that. I hope you will enjoy what I've found.
Hi! Or better yet, Ciao! Let me introduce myself. I'm Stefania, an Italian woman with a nomadic nature and many interests and passions that just keep growing and expanding. That's why I like to identify with water. Like water, I like to adjust to different forms which let me express myself and the many ideas, feelings, and dreams I have inside and want to share with others. Whether it is photography, dance, writing, or personal styling, my aim is to create from the inside out. Once in a while my creative focus shifts to focus on a specific means or subject, while the others remain in the background ready to move to the forefront when their time has come. At the moment what really inspires me and drives me is to promote sustainable fashion through the use of second-hand clothes, encourage the development of a personal style and share information and possible solutions for a sector that needs a radical change towards a more environmental and ethical vision.
Be water, my friends…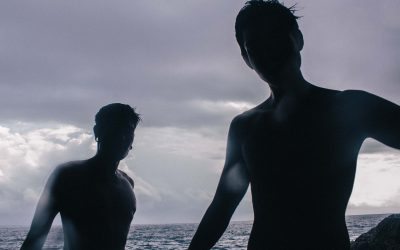 Hidden among the folds of the Earth, he makes his way up He stands out in the sky suspended between two worlds Rocked by the waves of the ocean, he emerges New and deeply ancestral Rising from the ashes of an eclipse disguised as nightmare From the bowels of Nature he...